Musical Theatre Audition Master Class &
Les Misérables™ Workshop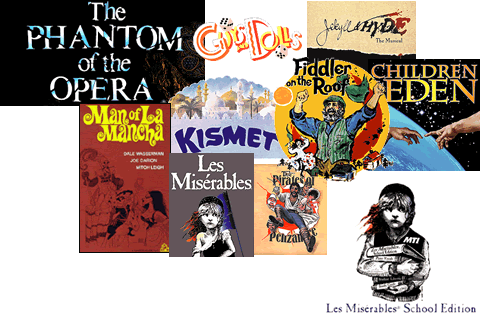 Dear Directors, Parents and Students:
As a professional artist, I have been performing on musical theatre, opera and concert stages for nearly twenty years. Having sung some of the most challenging roles in the musical theatre and operatic milieu, I welcome the opportunity to work with high school and college level performers, sharing my show business experience (from both on and off the stage!). The participants not only get a chance to perform for me – I present a mini-concert for them demonstrating my own artistic ability. During the Master Class and Workshop sections, I make it a point to underscore many of the ideas that you, as stage director (or musical director) will have undoubtedly shared with your cast.
Most Master Class – Workshops run approximately four hours, though I don't watch the clock and these events frequently run somewhat longer if warranted. You may open the entire workshop to whomever else you choose: other students, teachers, administrators, local press, etc.
Generally, my Master Class – Workshops are divided into three segments:
An "audition" Master Class where approximately six students prepare and perform an audition song in your auditorium for an audience of their peers. Participants must perform a piece that they have committed to memory and are prepared to "perform". Selections from musical theatre, operetta and opera are all acceptable, and cast members may perform selections from your current production. Each participant will have approximately ten minutes to sing and receive my comments and suggestions on how I think they may improve upon their performance. (Approximately one hour.) Alternatively, the Master Class can focus on your principal actors. This option takes a bit more time.
A Question & Answer segment. Participants and members of the audience may ask questions regarding anything about a career in "The Business". At the conclusion of this segment I will sing three songs. (Approximately one hour.)
The Workshop segment focuses on building individual characterizations and ensemble acting, possibly using some improvisational exercise techniques. I will then apply these ideas to actual scenes from the show. We may address any specific concerns or problems you need help with, etc. (Approximately two hours.)
I also offer a shorter version of the Workshop consisting of a Q&A session about the Les Misérables and life in the business in general, and I sing one or two songs.
You might also consider booking my artist-in-residence combination: a Master Class - Workshop plus a Broadway Pops concert. Please see the Broadway At Your School! Artist-In-Residence and Pops Concert Benefit program pages of this website. A unique way to educate, entertain and earn!
Thank you for considering my Master Class/Workshop, and I look forward to working with you and your students!
Best Regards,
Craig Schulman
For booking information, please contact me at CraigSchulmanVocalStudio@gmail.com or at (917) 279-3911.
PRINT BROCHURE

"The workshop you presented at Frontier High School is, without a doubt, one of the highlights of my 32-year teaching career. You have inspired my students beyond belief. The master class was invaluable to our young vocalists and the "gentle" corrections and suggestions offered have been taken to heart. They are practicing as never before."