Broadway At Your School!™
Artist-In-Residence and Pops Concert Benefit Program A unique way to Educate, Entertain & Earn!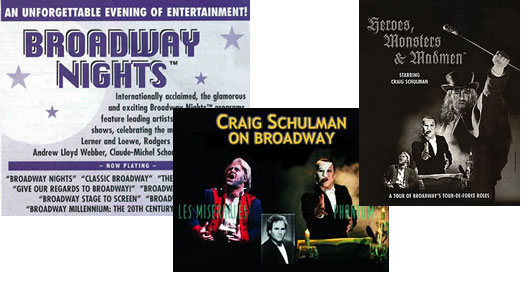 What makes a song grab your heart? What makes a performer feel like he or she is singing their song right to you? Why do certain numbers make us laugh, cry, get mad, or send our spirits soaring?
Our job as actors and actresses in musical theater is to communicate the message of a song over the footlights and out to the audience using every tool imaginable at our disposal.
This unique Artist-In-Residence program consists of an Audition Master Class plus Musical Theatre Workshop including Acting, Improvisational skills and much more! The program concludes with the participants performing with Mr. Schulman in a concert to benefit their own school's performing arts program!
EDUCATE! The Master Class/ Musical Theater Workshop:
Developed for young performers, The Musical Theater Workshop Artist-In-Residence program is a "mini-camp", covering many aspects of audition and performance. The Workshop takes place over two to three evenings (depending on enrollment) as we develop our voices, our bodies, our faces and our minds using vocal warm-ups, physical exercises, acting games and improvisation exercises. We learn to think quickly, be spontaneous and make strong dramatic choices to bring a song from a nicely sung presentation to a well-thought out performance.
Each session of the Workshop concludes with a rehearsal of material to be performed at a Broadway Pops Concert on Saturday evening following the workshop. All participants become members of The BAYS! Workshop Ensemble.
In The Master Class session, participants perform a song for an audience of their peers and other guests as if they were auditioning. In a positive, supportive environment, Mr. Schulman and his Music Director critique each performer and offer their opinions and suggestions on how the performance might be improved.
At the conclusion of The Master Class session, Workshop participants and audience members will vote for their favorite male and female performer of the evening in the Broadway Teen Idol™ competition. The two finalists will each perform a solo number in the concert, plus prizes such as voice lessons*, studio time and professional headshot photo sessions. (*Voice lessons with top New York City voice teacher Monica Robinson (212) 662-1523.)
What's It Really Like?
Joined by his Music Director, Schulman shares his professional experience as a Broadway star, opera singer, concert star and recording artist in a frank "question and answer session".
ENTERTAIN! A Unique Performance Opportunity:
At the conclusion of the Master Class/ Workshop sessions, The BAYS! Workshop Ensemble will perform a concert program with Mr. Schulman, singing a number of Broadway ensemble selections during the performance. The finalists of the Workshop's Broadway Teen Idol™ will each get to sing a solo in the concert. A great evening of entertainment for your audience and Workshop participants alike!
EARN! Money For The Arts In My School or Organization? 
This program costs your school nothing!!! Budget cuts have devastated school Arts Programs. Bake sales, car washes and candy sales can be a drudge. Supporting kids in the Arts is one of Craig's longtime passions. Through his incentive program, BroadwayGemsRecords.com will make a donation of $5.00 of each ticket sold to your sponsoring organization (i.e. – chorus club, drama club, etc.). Participants and organization must sell a minimum of amount of tickets.

Details:
Participation is open to all individuals in the Workshop area location aged 14 to 18 (freshman to senior) years. (College program available.)
Prior performing experience is helpful, but not necessary.
A professional Broadway Music Director/Conductor will accompany the Master Class and Concert programs.
Participants must attend all ensemble rehearsals at the conclusion of each Master Class/Workshop session, plus a Dress Rehearsal on the day of the concert.
Participants must bring their own sheet music to the Master Class for accompanist.
Songs for the Master Class must be memorized! Only Broadway, operetta or operatic selections are appropriate.
Mr. Schulman will approve all selections of music for the concert.
Participants will be provided with music for the ensemble selections for the concert.
Space is limited. Selection for participation in the Master Class/Workshop and Concert will be made on a first-come, first-served basis as well as other possible factors.
Cost for participation in the Master Class/Pops Concert $195.00 per participant.
Checks will be payable to: Your sponsoring organization. Your organization will receive a portion of the proceeds from the Master Class/Workshop portion of the program as well.
A minimum participation of 30 students is required to book this program.
Local Presenter will be required to liaise with local school and venue administrations, make auditorium arrangements, assist with local press, etc. Please inquire about "Local Presenter Responsibilities."
The Workshop will be taught by:
CRAIG SCHULMAN
Invited to represent the U.S. at the 10th Anniversary of Les Misérables in London, Craig Schulman is the only actor in the United States to have portrayed three of the greatest musical theatre roles: the Phantom in Andrew Lloyd-Webber's The Phantom Of The Opera; Jean Valjean in Les Misérables; and the title roles in Jekyll & Hyde. He has portrayed Jean Valjean in four different companies in three countries for a total of over 1,900 performances. Widely recognized from the PBS broadcast of The 10th Anniversary: Les Misérables In Concert; he has also played Che in Evita, Tevye in Fiddler On The Roof, and Archibald in The Secret Garden.
Schulman moves freely between the worlds of Broadway, opera and symphonic pops programs. He has appeared with many opera companies around the U.S., singing leading tenor roles in The Tales of Hoffmann, Tosca, Madame Butterfly, Carmen, Die Fledermaus, La Bohéme, La Traviata, The Crucible, and Manon.
As a Pops artist, he is the creator and producer of the Broadway Nights™ concert series. Craig has appeared in all of the Broadway Nights™ programs with symphonies and at corporate events around the country, and individually with the Pittsburgh Symphony, and the Philadelphia Pops with Skitch Henderson. He sang for the 40th Anniversary Gala for Opera Memphis. He also performs his solo concert programs entitled, Craig Schulman On Broadway, Be My Love… A Broadway Valentine and Heroes, Monsters & Madmen™.
Craig recorded his debut CD called Craig Schulman On Broadway at Abbey Road Studios, with the Philharmonia Orchestra of London. It is now available on the Broadway Gems Records label at BroadwayGemsRecords.com.
Television credits include The Guiding Light, All My Children, One Life To Live and most recently, The Rosie O'Donnell Show, and NBC's Weekend Today. He was heard as the voices of both "Luciano Pavarotti" and "Placido Domingo" on an episode of MTV's Claymation Celebrity Death Match.
TBA (Music Director)
Craig will bring a Music Director with actual Broadway credits to accompany his concert the various sections of the workshop.
For more information please call 914-962-5667
PRINT BROCHURE

"Thanks so much for the time, creative energy, expertise and passion you shared with my kids and staff yesterday. You are a terrific, straightforward communicator! Your messages – both new information and the reinforcement of concepts I had already discussed with my cast, were "heard" and many have been implemented already"